This month, I've had the pleasure of presenting two programs of book talks for a local organization of which I'm a member. The  first session occurred at the beginning of this month; the second, this past Monday.
Each was accompanied by a book list. Here's the first one:
FIFTEEN FAVORITES – 2020!

FICTION

LEAVE THE WORLD BEHIND by Rumaan Alam

THE OTHER AMERICANS by Laila Lalami

OLD LOVEGOOD GIRLS by Gail Godwin

MYSTERY

DEATH IN DELFT by Graham Brack

DEATH IN BRITTANY and MURDER ON BRITTANY SHORES by
Jean-Luc Bannalec

A CHRISTMAS RESOLUTION by Anne Perry

ALL THE DEVILS ARE HERE by Louise Penny

THE STRANGER DIARIES by Elly Griffiiths

CRISIS by Felix Francis

A STUDY IN SCARLET by Sir Arthur Conan Doyle

NONFICTION

JIM THOMPSON: THE UNSOLVED MYSTERY by William Warren

THE DEEPEST SOUTH OF ALL: TRUE STORIES FROM NATCHEZ,
MISSISSIPPI by Richard Grant

OWLS OF THE EASTERN ICE: A QUEST TO FIND AND SAVE THE
WORLD'S LARGEST OWL by Jonathan C. Slaght

CROSS OF SNOW: A LIFE OF HENRY WADSWORTH LONGFELLOW by
Nicholas A. Basbanes
This is the second:
2020 BEST BOOKS – II

Fiction

The Cold Millions by Jess Walter
The Boy in the Field by Margot Livesey
Pachinko by Min Jin Lee
The Sun Collective by Charles Baxter

Crime fiction

Wife of the Gods and The Missing American by Kwei Quartey
The Coldest Warrior by Paul Vidich
The D.A. Calls It Murder by Erle Stanley Gardner
Some Danger Involved by Will Thomas
The Chocolate Cobweb by Charlotte Armstrong
The Department of Sensitive Crimes by Alexander McCall Smith

Nonfiction

Vesper Flights by Helen MacDonald
World of Wonders by Aimee Nezhukumatathil
Black Hole Survival Guide by Janna Levin
The Revenge of Thomas Eakins by Sidney D. Kirkpatrick
We Keep the Dead Close: A Murder at Harvard and a Half Century of Silence                             by Becky Cooper

Children's

We Don't Eat Our Classmates! By Ryan T. Higgins
Wherever I've written at any length about one of the above titles, I've provided a link. And I'd like to append some comments here:
I may not have reviewed Laila Lalami's book in this space, but I did facilitate a discussion of this excellent novel for a book group I attend some months ago. It was a good discussion; I highly recommend The Other Americans for book groups as well as solitary readers.
In Death in Delft, the reader meets an appealing protagonist called Master Mercurious. He is a clergyman and an academic attached to the University of Leiden in what is now The Netherlands. Being as it's the 17th century, we  get to encounter the painter Vermeer and the scientist Anton van Leeuwenhoek as well. A thoroughly enjoyable reading experience.
I know Louise Penny has legions of fans devoted to her Armand Gamache series . These novels are usually set in Quebec; however, the events of All the Devils Are Here take place in Paris. That change of venue is one of the reasons I elected to read this novel. Penny doesn't always work for me, especially as regards the cast of characters that inhabit the village of Three Pines. There were things about this series entry that bothered me as well, but on the whole, I enjoyed it. I especially appreciated being back in Paris, if only by way of someone else's story – sigh….
I recently reread The Stranger Diaries for the Usual Suspects mystery book discussion group. This is an outstanding novel; I could hardly put it down this time around.
And speaking of mysteries (and when am I not speaking of mysteries), Kwei Quartey is a new and, for me, very welcome discovery. Wife of the Gods is the first entry in the Darko Dawson series The Missing American marks the start of a new series featuring private investigator Emma Djian. I've learned many fascinating facts about life in Ghana, Dr. Quartey's native land. (The Missing American has just been nominated for the 2021 Edgar Award for Best Novel.)
And speaking of historical mysteries, Some Danger Involved was recommended to me by my friend Angie, an astute and discerning reader of crime fiction. This is the first in a series featuring private investigator Cyrus Barker and his newly hired assistant Thomas, Llewelyn. The action takes place in late 19th century London and concerns that city's thriving (but perpetually nervous, with good reason) Jewish community. My inner Judaism Checker was attuned to the author's religious references and especially to his use of the Yiddish vernacular. Everything was spot on; moreover, the atmosphere was wonderfully evoked and characters, believable and appealing.
Finally, a word about Pachinko. I only read this novel because it was a book club selection. I am deeply grateful to this book club (AAUW Readers). Pachinko is one of those old style novels that opens up an entire world and peoples it with credible and often fascinating characters. I don't have enough superlatives in my vocabulary with which to heap praise on Min Jin Lee's masterpiece. It's the best work of mainstream fiction that I've read in years.
Towards the conclusion of the second set of book talks, several of the participants brought up trends in contemporary fiction that they wanted to discuss. One person bemoaned the tendency of narratives to abruptly go back and forth in time – "I had to take notes, to know where I was!" A second reader chimed in with the observation that a change of narrators was occurring more frequently and could be likewise confusing. And finally, there is the tendency to switch from the first person to the third – with occasionally  the second making a brief, unwelcome appearance.
I really enjoyed this exchange of views! It was a welcome reminder of my days as an English major in college and graduate school. In fact, the whole experience was extremely rewarding. I am grateful to the participants for making it so.
**********
Oh, and I almost forgot – the children's book We Don't Eat Our Classmates! was just  for fun: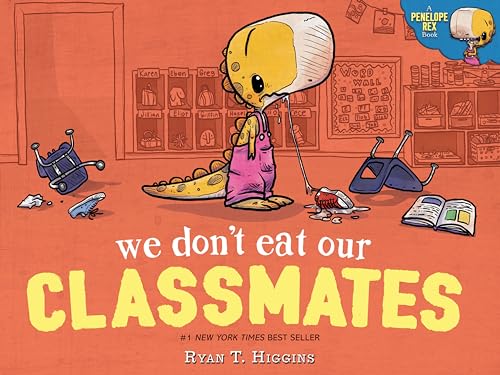 2 Comments
Nancy Hariani

said,

I'm so grateful, Roberta, to you for these book lists from your programs! In fact, the lists alone lift my spirits. Hope all is well with your family. We're all keeping well. I just got my 2nd shot and feel lucky and relieved.

Roberta Rood

said,

Nancy, Thanks for your gracious comment!